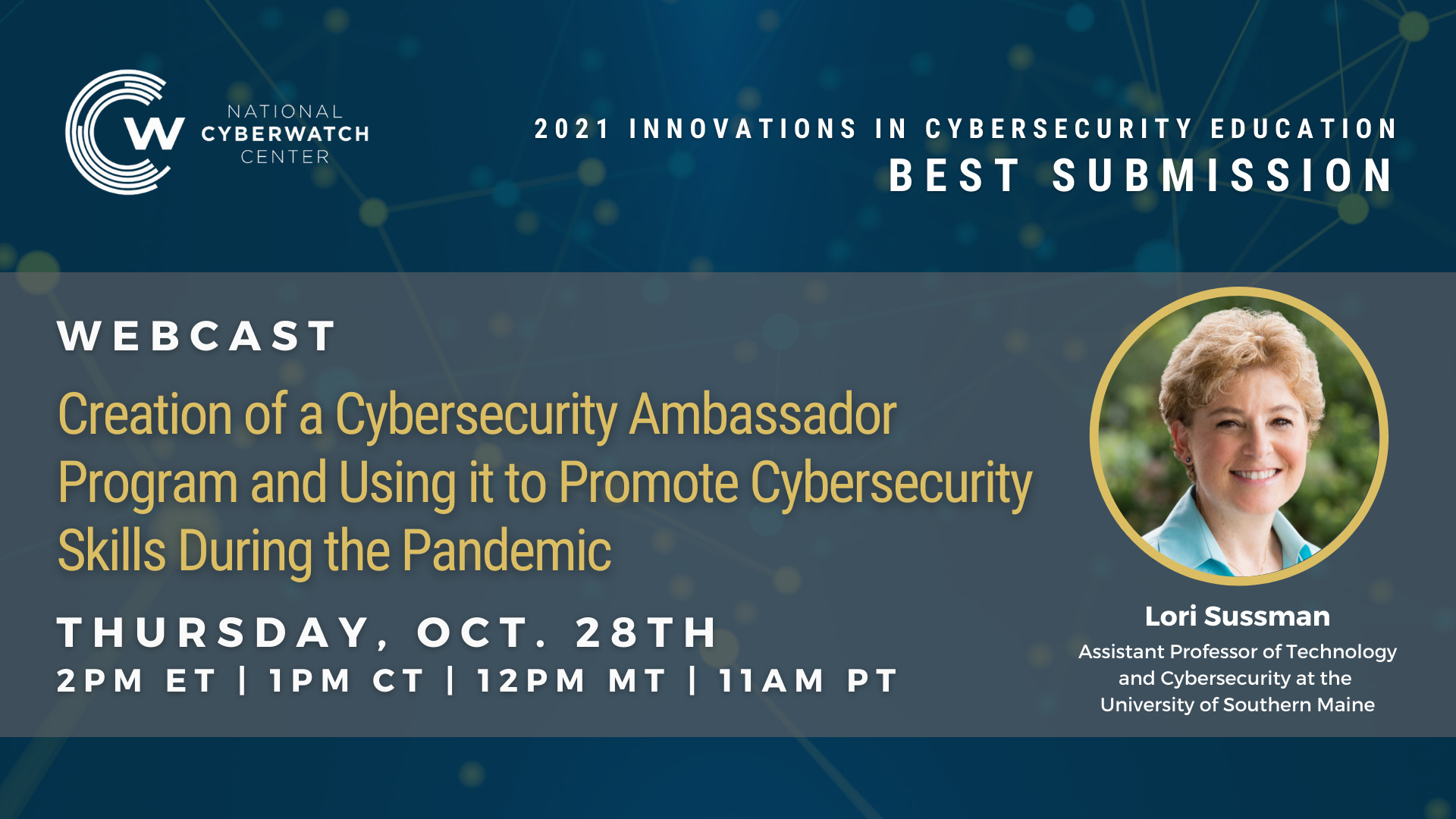 Creation of a Cybersecurity Ambassador Program and Using it to Promote Cybersecurity Skills During the Pandemic Webcast
In this webcast, Lori Sussman discussed the Cybersecurity Ambassador Program (CAP) at the University of Southern Maine, and how it provides graduate and undergraduate students opportunities to use the cybersecurity knowledge, skills, and abilities acquired at the university to raise awareness in the community.
This project was awarded the Best Submission in the 2021 National CyberWatch Center's Innovations in Cybersecurity Education program.
About the Presenter: Lori Sussman, Ed.D., is an Assistant Professor of Technology and Cybersecurity at the University of Southern Maine. She is a West Point graduate and retired U.S. Army Colonel. Her military leadership experiences include 15th Regimental Signal Brigade Commander, 2nd Infantry Division Battalion Commander/CIO/G-6, Presidential Communications Officer, Joint Staff J-6 Executive Officer, and Assistant to the Army Chief of the Staff, among many demanding tactical assignments. Dr. Sussman spent time in large and small companies but most notably Cisco Systems and HPE. She is also an entrepreneur, having led her own businesses. In these varied roles, Dr. Sussman has managed a spectrum of highly complex organizations engaged in developing, integrating, deploying, and sustaining state-of-the-art technology and security solutions for clients. Her research areas include cybersecurity training and awareness, gender equity in technology organizations, and technology leadership. In 2021, Governor Mills named Dr. Sussman as one of eleven veteran aides-de-camp.
Date Recorded: October 28, 2021
Webcast Recording
Date Published:
October 8, 2021