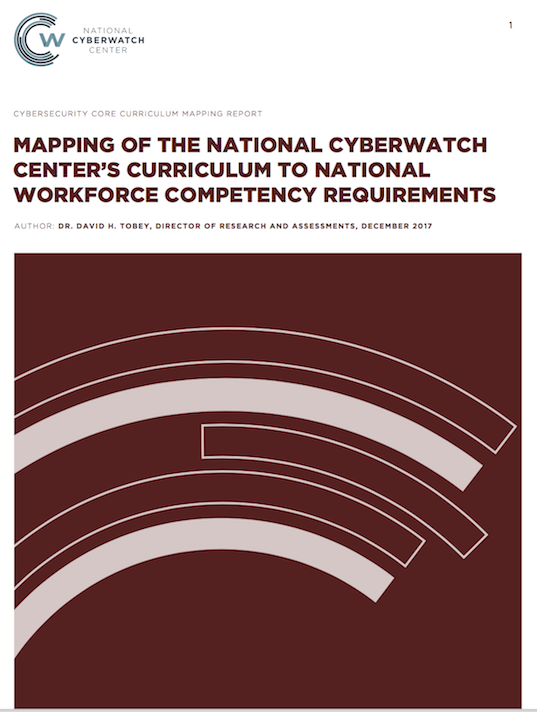 Mapping of the National CyberWatch Center's Curriculum to National Workforce Competency Requirements
In the fall of 2016, the first project of the National CyberWatch Center Curriculum Standards Panel was launched, AKA the Cybersecurity Core Curriculum Mapping Project. This project involved eight online working sessions with synchronous and asynchronous activities, with over 100 faculty, industry professionals, and government representatives completing various tasks to determine the requirements to successfully complete five National CyberWatch Center courses:
1.    NCC 200: Networking I: Networking Fundamentals
2.    NCC 204: Linux Server I: Linux Fundamentals
3.    NCC 210: Information Security Fundamentals
4.    NCC 212: Scripting Fundamentals
5.    NCC 214: Ethical Hacking & Systems Defense
The produced standards will be the first to align instructional design, skill practice facilities, cybersecurity professional job performance standards, national workforce frameworks, and industry needs, which are desperately needed to guide responsible curriculum development for the new generation of Information Security specialists.
The Cybersecurity Core Curriculum Mapping Project will be the first of several planned initiatives from the National CyberWatch Center to produce formative credentialing solutions that increase the number of capable cybersecurity professionals protecting our nation from cyber incursion and increasing the reliability and effectiveness of the computing infrastructure critical to our national security and economic prosperity.
Date Published:
December 5, 2017